Welcome to Hemyock
Friday, May 24 2013 @ 01:26 PM BST
Blackdown Hills Hedge Association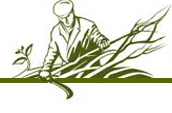 The Association comprises an enthusiastic group of people working and living on the Blackdown Hills who are dedicated to preserving the craft of hedge laying and other allied skills in the Blackdown Hills Area of Outstanding Natural Beauty.
The aim of the Association is to do their utmost to preserve rural skills associated with hedgerows.
This is achieved by running the annual Hedge Event together with training events and workshops aimed at promoting and educating people about rural skills and crafts using materials from hedgerow.

In addition to running classes, the Hedge Association also promotes its aims by taking displays to local and national events, becoming involved with the Blackdown Woodlands Pilot, by sharing their coppicing skills with others and assisted with the creation of the Roe Deer Sculpture located on the side of the A303 to signify the gateway to the Blackdown Hills.
Contact Us
Chairman - Martin Turner 01823 680552
Secretary - Mark Edwards 01460 234222
Treasurer - Gill Bromley 01460 234495
Email
info@blackdownhills-hedge.org.uk
Web
www.blackdownhills-hedge.org.uk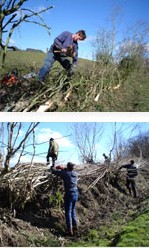 Hedgelaying in the Blackdowns