Welcome to Hemyock Sunday, October 01 2023 @ 10:22 pm UTC
Upper Culm Twinning Association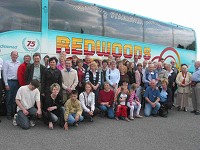 The name of our French Twinning Association is "Le Jumelage des Grees" which is the name given to an area of marshes and lakes.  The association consists of four different villages: St. Herblon, Anetz, La Roche – Blanche & Pouille les Coteaux.  Each one takes it in turns to be the main host village when we visit.  The villages are found just north of the N23 between Ancenis and Varades, with Nantes 30km to the west and Angers 40km to the East.
The fact that their Twinning Association consisted of several villages was the main reason for choosing the name of our Association, "The Upper Culm Twinning Association", so it enabled villages in the area to feel that it was their association.  We have members from Hemyock, Clayhidon and Culmstock.  
We are an active association, organising several social events throughout the year. 
WHAT DOES IT INVOLVE ?
Offering accommodation to a person or family in your house and feeding them.  
WHAT DO I GET OUT OF IT?
New friendships, knowledge of other cultures, visits to France, possible lasting friendships, giving you a holiday base in one of the beautiful areas of France.
BUT I CAN'T SPEAK FRENCH!
Don't worry, as long as you are prepared to try, mime, gesticulate or even learn a few French words like; "Yes, No; Thank you; Good Morning", and may be a few other words, you'll have a wonderful time.
WHAT TYPE OF PERSON IS INVOLVED IN TWINNING?
People from all walks of life.
WHAT IF I DIDN'T GET ON WITH MY VISITOR?
We give our French organisers a personal or family c.v. of people offering to be hosts so that, if possible, visitor and host can be compatible.
YES I'M INTERESTED, WHAT DO I DO NOW?
Contact us!  See contact details below.

Or to see some pictures, view our photo album

Chairman
Bill Smith   01823 421200
Secretaries
Karen Pinder   01823 681034
Louise Saunders   01823 681457
Treasurer
Sally Cartledge   01823 680367
Members
John Scantlebury   01823 681393
Gillian Hawkes  01823 680047