Welcome to Hemyock Saturday, December 09 2023 @ 11:33 am UTC
Parish Hall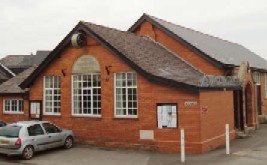 The Hemyock Parish Hall is probably one of the finest in Devon.  It is well appointed, well maintained, and very well used.  Every conceivable use is made of the building: concerts, public meetings, musical shows, flower shows, a Saturday Market, a dance class, aerobics, and much, much more.

The foundation stone was laid in 1927, by the Revd de Burgh Forbes, and behind the foundation stone was placed a time capsule.  The Hall was built by Mr Jim Hart.  The Revd Forbes was remembered when the smaller of the rooms in the building was named 'The Forbes Lounge'.

The Parish Hall is managed by a committee, that also looks after the recreation field beside the hall and the small playground in the centre of village.
For more details, please visit our website www.hemyockparishhall.co.uk
You can also view our photo gallery
Last Updated: Thursday, June 21 2018 @ 09:06 am UTC| Hits: 19,291