Band Hits Right Notes in Contest
Tuesday, February 13 2007 @ 08:29 am UTC
Contributed by:

Admin

Views: 1,152

A young band from Hemyock has narrowly missed a place in the final of a battle of the bands competition.
Dicentra came third in heats for Somerset County Council's Battle of the Bands contest, held at the Somerset College of Arts and Technology, in Taunton, on January 6.
The competition offered one lucky band the chance to perform before Glastonbury Festival supremo Michael Eavis and spend a day in a recording studio.
Dicentra impressed with four of their songs, each produced by John Golden at his recording studio in Combe St Nicholas.
John said: "I think it was a very good performance considering they were up against nine other much older and more experienced bands.
"We had been casting around for talent in the area which is why Dicentra came to us with some cover songs.
"Their basic talent was very impressive so I recommended they go away and write their own material.
"Within a few months they came back with four very well crafted songs, all of which they performed with a maturity far beyond their years.
"If they continue in the same vein, they are definitely a band with a future," he added.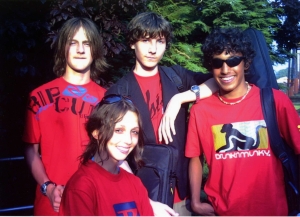 DICENTRA - Jack Sibley, 16, Hatty Carman, 16, John Paiva, 15 and Naif, 15