Parish Council Responds to the Culm Development Plan
Saturday, September 22 2007 @ 11:15 am UTC
Contributed by:

Paul Steed

Views: 1,200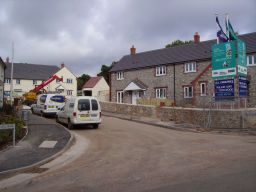 It is widely recognized that Hemyock has had significant housing development over recent years.
Members of Hemyock Parish Council held an additional meeting in order to discuss the Culm Development Plan (see here). This was because of their real interest and deep concern about areas of the village which were being considered by Mid Devon District Council for future affordable housing and employment development. The plan identifies three areas within Hemyock where affordable housing and/or employment construction could take place.
Whilst the Parish Council recognized that a 20-30 year plan was advisable, the suggestions made by MDDC were generally thought inappropriate for several reasons. Firstly, because two of the three sites were not necessarily located in what might finally be the best place. Secondly, that large areas of social housing ran counter to the idea of mixing private and affordable housing which national and local government affirmed as being socially responsible. Thirdly, the basis of such a plan must be founded on information coming from the local community itself in the form of a Parish Plan which was to be written shortly. This plan will identify the housing needs of local and returning residents, and the employment opportunities required which could lead to the construction of suitable employment provision.
Previous housing research carried out by the Parish Council suggested that the needs were less than the Culm Development Plan suggested and that light industrial units in Hemyock remained un-let for considerable periods of time.
Steven Reed
PRO
Hemyock Parish Council