Space Science Made Easier By Hemyock Man
Wednesday, February 20 2008 @ 02:03 pm UTC
Contributed by:

Admin

Views: 1,316

Now Simon Ould can bring the solar system down to earth, his space odyssey service is really taking off. The ex-physics teacher, who lives in Hemyock, has launched a mobile planetarium project which is completely out of this world.
The astronomy expert travels the region visiting schools and community groups inspiring and educating people about the universe.
An array of complex kit is used to show phases of the moon, constellations of the stars and planet positions. Lights are shone through tiny holes and lenses in the top of a dome to illustrate the formation of the night sky.
"This is the crucial part, as it produces the stars and the moving planets," explained Simon, who has an astronomy degree from Plymouth University. "It is a clever bit of kit and I can make the stars move as fast or as slow as I like. I can also change the latitude, so I can show what the sky at night will look like across the world."
Simon's planetarium presentations are delivered to a wide range of audiences, from children at reception class level to A-Level astrophysics students. His first event took place in Midsomer Norton, Somerset, in November 2004 and, since then, he believes he has presented to around 48,000 children.
Simon, who is also a Fellow of the Royal Astronomy Society, added: "There is quite a contrast with the content delivery. There is a massive age range, so it is never the same for me, because I am adjusting the material all the time.
"I am primarily a physics teacher and I am brought in as a specialist to teach the spacey aspects of the curriculum. It also gives children the opportunity to ask me questions which other teachers may struggle to answer."
His presentations are tailored to make sure the "penny drops", so youngsters completely understand what they are being taught.
The Space Odyssey Mobile Planetarium is fully booked until Easter and has recently enlightened pupils in Silverton and South Devon.
Simon, who was inspired by a similar service based in Kent, said: "This new departure is going to last a very long time. I did some research before handing my notice in as a teacher and I haven't looked back.
"There is an intense personal satisfaction in seeing how the kids respond. It is incredibly rewarding.
"There is a lot of eagerness from the children beforehand; you can see how excited they are. Once they are inside, they are wonderfully awed and they are keen to ask questions.
"Space ideas are very abstract and can be very difficult to teach in the classroom, and this immersive environment lends itself very well to helping the children understand."
For further information about Simon's presentations, read more at
www.spaceodyssey.co.uk
or email
info@spaceodyssey.co.uk
or telephone 01536 516887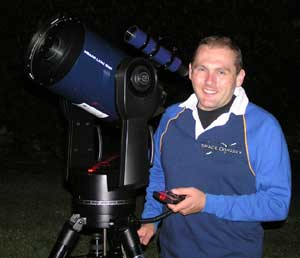 Simon Ould