Hemyock History Group Latest News
Friday, April 02 2010 @ 11:11 pm UTC
Contributed by:

Admin

Views: 1,040

The talk on the 8th April will be given by Bob Musgrove on the story behind Inn Signs and the talk on 13th May by David Greenfield on Brunel's work in the SW.
On 11th February Ron White spoke on "In and Out of Africa". He outlined the work he was doing with Scripture Union of Uganda, from 1971, to further daily Bible Reading and encourage Christian Union groups in secondary schools by visits and conferences. He expected this to last for about five years, but before two years were up he was visited by Idi Amin's men, one Monday morning, who said they were deporting him. Ron conjectured on the reasons why this might have been. He was held overnight in the Central Police Station and served steak and chips! His wife, Val, was able to visit and encourage him. She then joined him with their two daughters on the flight home, having been escorted to the airport by John Sentamu, now the Archbishop of York. Ron then talked about his recent visit to Nigeria to help celebrate the 50th Anniversary of the foundation of the school at which he taught from 1966-1971. To his surprise, he was also made a chief! Ron gave the talk while wearing traditional Nigerian Chief's clothing, which he had been presented in Lagos. Most of the questions were related to this e.g. was it an hereditary title, and how many wives was he allowed to have! Not many residents of Hemyock have been honoured in such a way by senior people of another country.
The talk on 11th March was given by Dr David Pugsley on the murder at Clayhidon.
Dr Pugsley gave a very informative talk on the historic murder of Mr Blackmore at Clayhidon in February 1853 showing just how much research he has made into such legal cases. The wealth of information provided was remarkable including the dramatic speech given by the Defence Council quoting Shakespeare's Othello. Of particular note was the painting of the life of simple, poor Country folk of this area and the contrasting life of the ruling classes at the time. Almost the only leisure activity was drinking in the many ale houses in the hills and which had a large part to play in the activities of that fateful night. Perhaps as a direct result of this case, the Blackdown Mission and the brothers meeting houses started up in the Blackdown Hills over the following years to spread the gospel and saw the beginning of a period of religious revival and further the views of the Temperance Societies of the time that we have heard of in previous History Group talks.
Both talks were well supported with the collections over the last year amounting to over £500 all going to the support of the Church Rooms.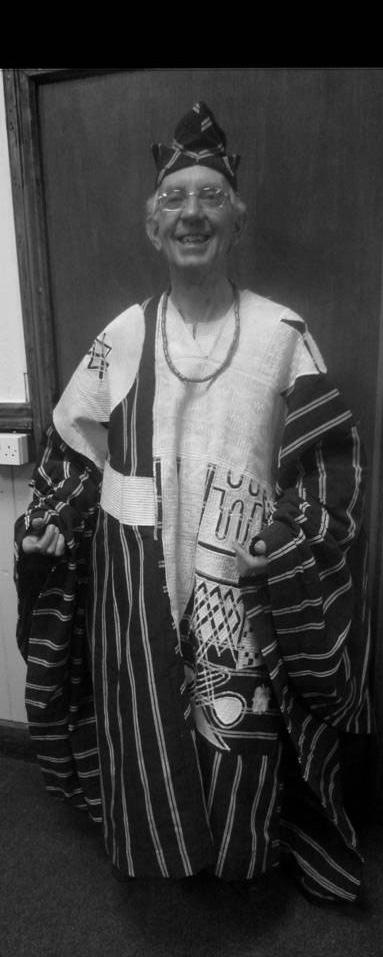 Rev Ron wearing traditional Nigerian Chief's clothing